When it comes to accessorizing, finding the perfect necklace to pair with hoop earrings can feel like a mini fashion adventure.
As someone who's spent more time than I'd like to admit in front of the mirror, experimenting with different combos, I've come to realize that the right necklace can elevate your hoop earrings from stylish to absolutely stunning.
In this post, I'll share some of the top tips on what necklace to wear with hoop earrings to make them vibe together.
What Necklace to Wear with Hoop Earrings: Top 6 Picks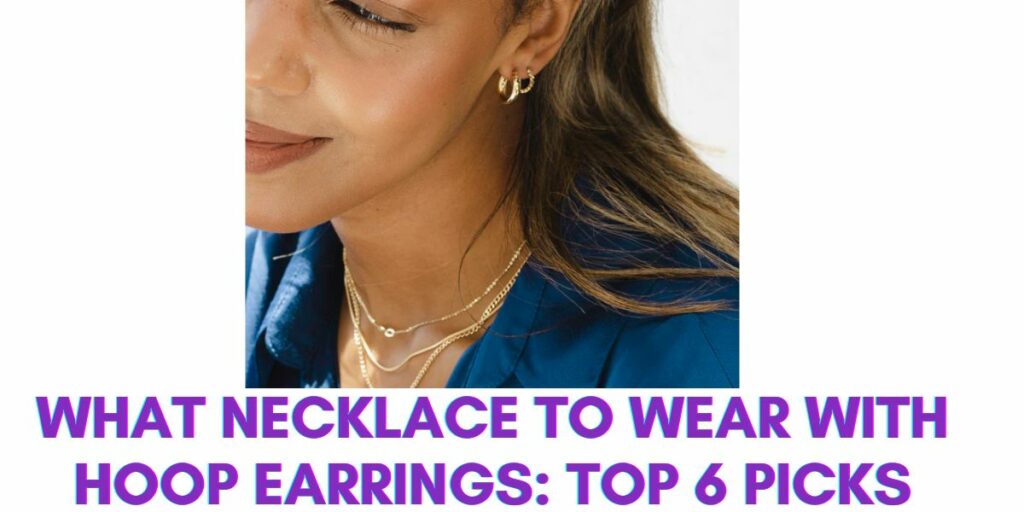 These are the top 6 necklaces to wear with hoop earrings:
Achieve an effortless style by combining hoop earrings with a White Diamond Clover Necklace. This pairing exudes a minimalist charm, creating a chic and refined look.
Look stylish by wearing hoop earrings with a White Clover Necklace featuring a Gold Chain. It's simple and elegant, perfect for any occasion. This cute mix adds a touch of class to your outfit, creating a chic look.
3. Statement Necklaces
Choose a bold statement necklace and pair it nicely with your hoop earrings. These necklaces are famous for being big and having eye-catching designs, instantly adding excitement to your outfit.
4. Choker Necklaces
Choker necklaces paired with hoop earrings of any size or design effortlessly create a chic and edgy combo that enhances your overall look.
5. Dainty Necklace
Combining statement oversized hoop earrings with a dainty necklace adds an element of boldness to your style, allowing you to express confidence and individuality. It makes you look interesting and cool.
6. Pendant Necklaces
Pairing hoop earrings with a pendant necklace creates a perfect mix. These necklaces infuse personality into your outfit and highlight your facial features. Choose a necklace charm that goes well with your hoop earrings, ensuring your look is coordinated and attractive.
Selecting the Ideal Necklace Length for Different Hoop Earring Sizes
Select these necklace lengths to perfectly match hoop earrings of small, medium, and large sizes:
Small hoops: For small hoops, opt for shorter options like chokers or 16-inch chains to emphasize their delicate charm.
Medium hoops: Medium hoops pair harmoniously with 18 to 22-inch necklaces, striking a balance that complements their moderate size.
Large hoops: Longer necklaces blend perfectly with large hoops. This pairing adds a classy touch to their impressive style, making a balanced and attractive appearance.
Check out our guide on Earring Ideas For 2 Holes to enhance your earring style. Discover tips and tricks to perfect your ear accessory game.
Top 3 Necklaces for Hoop Earrings with Gemstones or Beads
These are the top 3 necklaces for hoop earrings with gemstones or beads:
1. Gemstone Necklaces
To achieve a cohesive and well-coordinated look, ensure the necklace has the same colorful stones or gemstones as your hoop earrings. This way, the colors will match well and look nice together.
2. Pearl Necklaces
Whether classic white pearls or something more vibrant, you can pair a pearl necklace with your pearl hoops to make your look stand out and be unique. You can pick a necklace with pearls in different colors and sizes for a special look.
3. Multi-Strand Beaded Necklaces
You can pair your multi-strand beaded necklace with beaded hoops. The colored beads add a playful touch, making it a lively accessory for any occasion.
Top 3 Necklaces That Complement Silver Hoops
These are the top 3 necklaces that complement silver hoops:
1. Simple Chain Necklaces
Choose a plain silver chain necklace for your everyday look. It adds a bit of class and style without drawing attention away from your silver hoop earrings.
2. Cool Tone Necklaces
To achieve a sleek and modern aesthetic, pair your silver hoop earrings with necklaces in cool tones, such as silver or white gold. You can also opt for simple, neutral-colored necklaces, like white or gray pearls, to keep a classy and versatile look with silver hoop earrings.
3. Statement Earrings
Elevate your silver hoop earrings by opting for statement necklaces. Select a necklace with a striking design or captivating gemstones to add a bold and eye-catching touch to your ensemble.
Top 3 Necklaces That Complement Gold Hoops
These are the top 3 necklaces that complement gold hoops:
1. Layered Necklaces
Pairing gold hoops with multiple gold necklaces can be a cool way to change your look. You can mix and match different lengths and styles to make your style stand out. For example, try wearing a long pendant necklace with a short choker necklace for a unique and stylish combo.
2. Dainty Necklaces
Thin necklaces look even prettier with gold hoops. Delicate necklaces, made with thin chains or tiny beads, get a bit of extra sparkle when paired with gold hoops. The hoops make the simple necklace look fancier and more dressed up.
3. Choker Necklaces
Try pairing your gold hoop earrings with trendy choker necklaces. Chokers uniquely emphasize the neckline, giving off a cool and modern vibe that goes really well with the classic style of gold hoops.
Learn How to Make Teardrop Earrings with our step-by-step guide, infusing your accessory collection with a touch of your unique style.
Factors to Consider When Pairing Necklaces with Hoop Earrings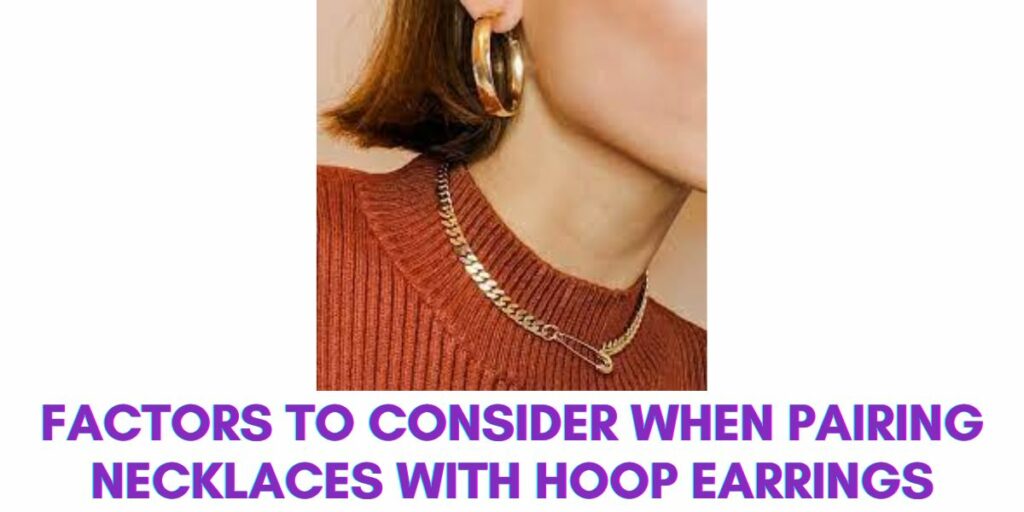 These are the factors to consider when pairing necklaces with hoop earrings:
Hoop Size: Consider the size of your hoop earrings before choosing the necklaces to pair with them. If your hoops are big, you can match them with simpler necklaces. This way, everything stays balanced, and your accessories won't take over your whole look.
Metal Tone: Check out the metal tones of your accessories. It's best to pick metals that match, like pairing gold hoops with a gold necklace or silver hoops with a silver necklace. You can also mix metals for a more trendy look.
Length: Consider the length of your necklace. If you're rocking big hoop earrings, go for a shorter necklace like a choker or matinee. This helps avoid any accessory showdown. For smaller hoop earrings, a longer necklace, such as a pendant or opera necklace, can add charm without stealing the spotlight.
Occasion: Consider the occasion when picking your accessories. For fancy events, go for delicate and subtle combos so your accessories add to your look without taking over. If you're heading out casually, you can play around with more daring combinations to give your outfit an extra stylish touch.
Necklace Styles That Complement Hoop Earrings
These are necklace styles that complement hoop earrings:
Minimalist Necklaces: Keep it simple when thinking about what goes with your hoop earrings. Try out plain and small necklaces for a chill and balanced look. These low-key designs, like thin chains or tiny pendants, add a nice touch without taking over.
Statement Necklaces: If you're feeling bold, wear statement necklaces that elevate your hoop earrings without stealing the spotlight. Choose a bold design or a vibrant color to add flair to your outfit. The key is to strike a balance – let your hoop earrings and statement necklace each shine uniquely.
Layered Necklaces: Try layering a few necklaces with your hoop earrings for a cool and stylish vibe. Mix up different lengths and styles for a unique look.
FAQs On What Necklace to Wear with Hoop Earrings
These are the most frequently asked questions on what necklace to wear with hoop earrings:
What Necklaces Complement Gold Hoop Earrings?
Opt for necklaces in similar tones, such as gold or warm metals, for a cohesive and timeless look. Delicate gold chains or pendant necklaces enhance the elegance of classic gold hoops.
How Can I Choose the Right Necklace for My Hoop Earrings?
Consider the style of your hoop earrings and the occasion. Delicate chains or pendants work well for a subtle look, while statement hoops pair nicely with bold necklaces.
How Do I Ensure a Balanced Appearance When Layering Necklaces With Hoop Earrings?
Ensure the necklaces you wear are the right length and not too thick. Use different lengths to add some depth, and pick necklaces of different thickness so it doesn't look too busy.
What Types of Necklaces Are Suitable for Casual Outings With Hoop Earrings?
Think about wearing thin chains and charm necklaces for a laid-back look. Try putting on multiple necklaces to make your casual clothes unique and special.
Conclusion
Pairing the perfect necklace with hoop earrings transforms your style from ordinary to extraordinary. Experiment with lengths and textures to strike a balance that mirrors your unique flair. Whether it's a chic choker or a simple chain, the key is to complement.
So, next time you ponder, "What necklace to wear with hoop earrings," let your creativity shine and confidently adorn yourself.